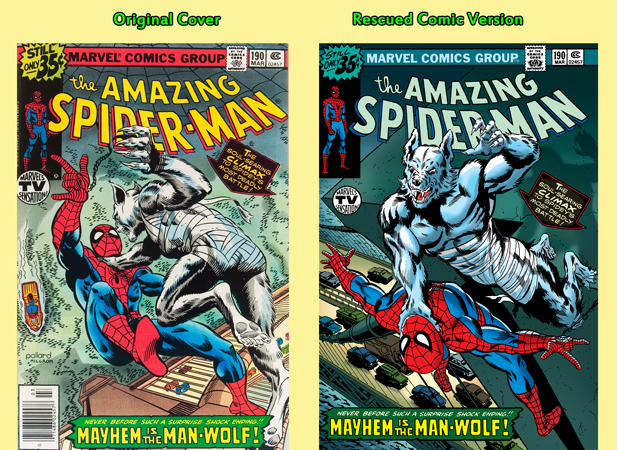 Rescued Comics? I have questions!
Are you restoring old comic books?
NO. Restoring comics is the process of creating copies of the original covers through electronic reproduction. Often this is done by people who do that in an effort to "fool" the grading companies. We are not out to "fool" anyone.

Rescued comic covers have reimagined covers. All the artwork is original drawn, digitally enhanced, and a high quality print is painstakingly bound to the coverless comic using paperstock that is very close to the feel that it's original cover once had.
Why not just do sketch covers?
Actually We do. In the interest of serving all price ranges we offer several different types of rescues.
Sketch Cover Rescue - Similar to the sketch covers of today the comic cover is created from a matte card-stock which lends itself better for a drawing. The cover art is original one of a kind artwork drawn right on the cover that collectors have grown to love. The price of the comic is driven by how much the cover drawing cost us to obtain.
Full Rescue - One of our best types of rescues. Anyone who collects sketch covers will tell you how expensive it can get. Rescued comics wants to provide an affordable option for collectors. By not making our standard offering not a one-of-a-kind offering, the production cost can be spread across a number of issues keeping the costs down. Regardless these "variant comics" are very exclusive and will always have extremely low runs. A Full Rescue is a unique variant cover printed for a specific book. Like the original this cover was made for the story inside and digitally enhanced to display the title, original price, etc. It is printed on a glossy stock similar to comic covers.
Illo Rescue - A convention style drawing that was printed on Sketch Cover stock paper, it may or may not be digitally colored depending on the artwork. This very affordable type of rescue was developed due to the ever growing inventory of coverless comics needing to be rescued.
Sketch Blank Rescue - Same as the sketch cover rescue except it contains no artwork. We will leave that part for you to take care of.
Demo Rescue - Our most affordable type of rescue made for comic book shows. A full rescue cover is printed and bound to a comic book that the cover does not belong to. Generally a book that would not otherwise be resuced by us (Archie, Casper, etc).
Are these variants?
We are focusing on comics from the 1980s and earlier. Comic publishers did not (intentionally) create variants covers during that time... They didn't exist...until now. RescuedComics.com will have the only variants for these issues in existence.
How do you select the issues you rescue?
Would you like to pick out our next rescue? Would you love to see how we would reimagine a cover from one of your favorite old comics? Go to our Next Rescue page. You can select from our list of rescue candidates, and bring your favorite to the top of our "to do" list (done in the order we receive them).

Note: There is no obligation to buy the comic or the artwork when you do this, you are merely moving a comic we would eventually rescue to the top of the list to see what our re-imagining would look like.

Generally, We do the artwork for titles we have in stock and hopefully are of interest to collectors. Also we try and pick ones that somewhat unique and fun to do. Let's face it Spiderman 129 already has an awesome cover, so we did issue 190 instead.
Will you sell the original artwork?
You bet. Both the original line art and prints of the cover art will be available for sale on this website. Watch the gallery page as each project gets finished it will go up for sale.
Will you do a custom cover for a coverless comic I own?
Yes, we would love to! As all covers are not created equally. Please go to Your Comic Page so we may provide you with all the details and a quote which will include the creation of a cover, the original art and a print of the digitally colored cover.